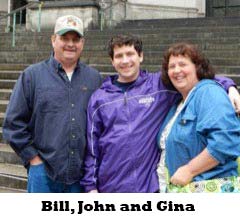 The Aaron family heartily welcomes you to visit and
browse! We take pride in offering the third
generation of personalized service and a friendly,
helpful atmosphere. 

Mack Aaron's Apple House has a history of expertise
in growing apples in Gilmer County that dates back
to 1944. Bill's father, Mack, was only 4 years old
when his parents, Otis Shafter Aaron and Reba
Ellis Aaron purchased a farm of over 200 acres from
Bob Ayers to produce apples for both commercial
and retail sales. Popular apples of the time have
included Red Delicious, Rome Beauty, Ben Davis, Shockley, Limbertwig and Detroit
Reds, Arkansas Blacks, Yates, and Gilmer Pippin.  Some of these varieties have been
replaced with heartier, more popular ones.
We are continuing to improve our products. We have planted over 1500 new apple
trees of varieties such as September Wonder (Fuji), Pink Ladys, Honeycrisp,
Blondees and Cameos.
In 1977 Mack and Joyce Aaron built nearby on the current location, opening for the
1978 season. The family oriented business continued wholesale and retail sales
with emphasis on friendly service.  In 2008 Mack and Joyce turned day to day
operations over to their son and daughter-in-law, Bill and Gina Aaron.

In addition to apples, peaches and nectarines, we also offer several other types of
produce as well as a multitude of tasty goodies ready to enjoy.  Special care is given
to the delicious hand made fried pies. You are guaranteed to find at least 11 varieties
to choose from! Come by soon and pick your favorites!